"He comes like a new Elijah or John the Baptist or Louis Marie de Montfort. Very powerful, very solid and very convincing."
– Reverend Edmund Castronovo, Pastor, Our Lady of Good Counsel, Verona, NY
About Rocco Fortunato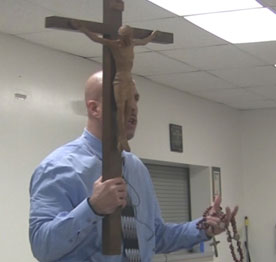 Baptized Roman Catholic as an infant, God had little (if any) part in my life. If I attended Sunday Mass, it was out of obligation. Through television, movies, & especially disordered music, my heart was attracted to the life of sin they promoted…
Read More
---
Prayer of Spread the Blaze
My Most Sweet Jesus, from the depths of Thy Sacred and Eucharistic Heart
through the Sorrowful and Immaculate Heart of Mary Most Holy,
please cast Thy Eucharistic Fire into our hearts and make us living seraphim of love.
Grant us the grace that all souls that we encounter and all souls that encounter us
will be drawn through, with, in, and for Mary Most Holy,
as slaves of love of Her Sorrowful and Immaculate Heart,
in union with St. Peter, St. Joseph, and St. John the Baptist,
that we may bring to You legions upon legions and myriads upon myriads
of seraphic adorers of Your Eucharistic Presence,
an army of Love for You, Our God and Our King!!! Amen!!! Alleluia!!!